With lingering coronavirus-related business restrictions, many restaurants and retailers are finding that gift cards can be a lifesaver, helping them ensure continued operation by pre-funding future purchases. There is a risk with this strategy though.
For example, a common incentive is to offer the consumer a bonus gift card when they spend a certain amount (e.g., "Get an extra $10 card when you buy a $50 card!"). Sounds great, right?
The risk: These bonus cards have costs and challenges. For example:
The cost of the creating and distributing a printed card

Managing the supply of physical gift cards at each establishment to pay out those bonus cards.
There's an easier, safer way…
A more elegant solution some of our Mobivity customers are using to fulfill on the bonus offer is to employ two separate features of our Recurrency™ platform to create a comparatively low-risk and easily managed incentive:
Offers & Promotion Management, helping brands deploy and manage one-time use offer codes and then accurately attribute sales across every channel, promotion, and media program.

Personalized Receipt Promotions, using printed receipt offers and messages that are both relevant (based on customer's current transaction) and timely.
What these Mobivity businesses are doing is creating a digital gift card printed on the customer's receipt.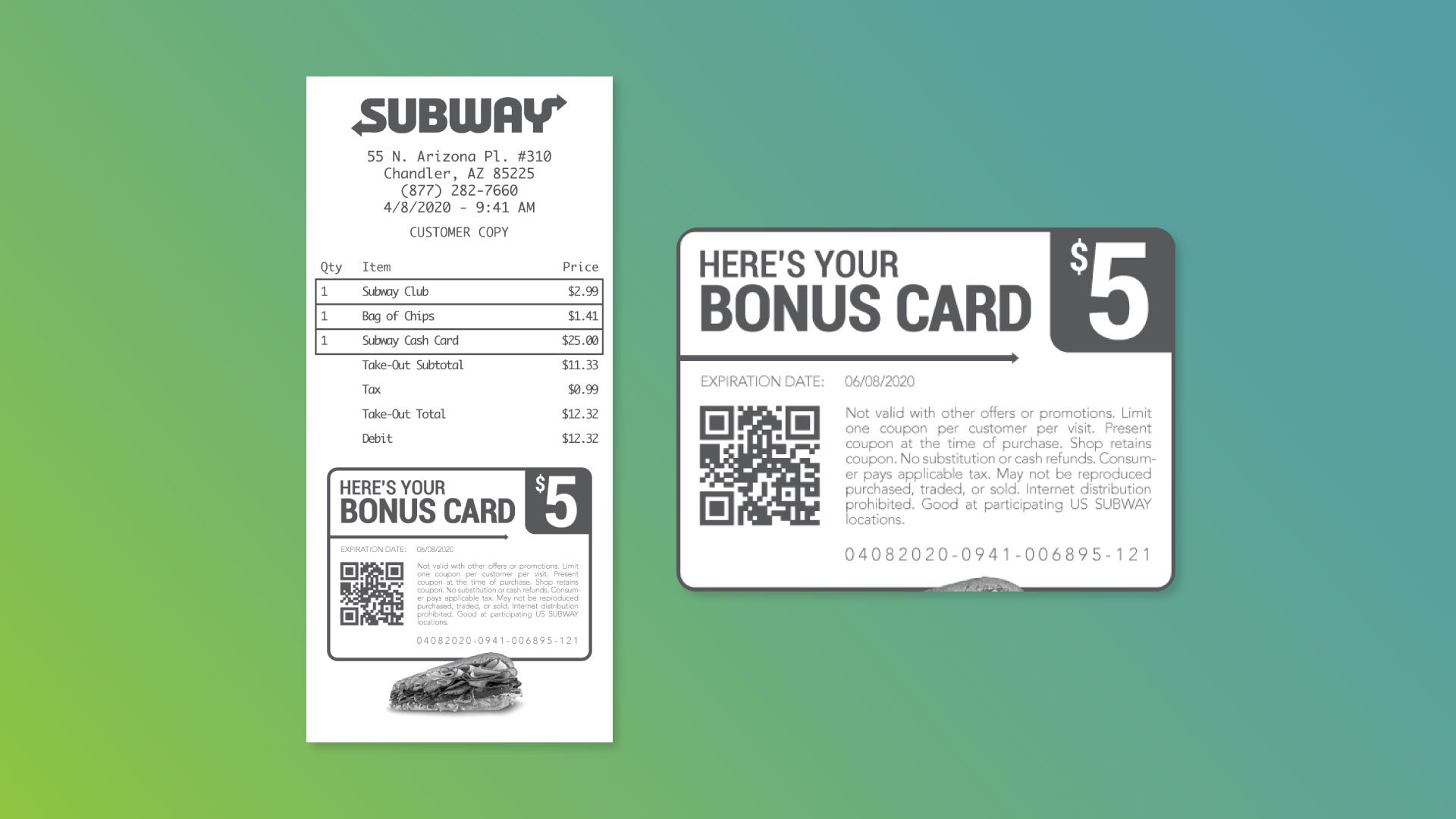 The offer, such as the $5 gift card shown in this example to the above, can be dynamically controlled, printing a different offer (digital-gift card, coupon, announcement, invitations to participate in a survey, etc.) to each customer based on their purchase.
Five reasons why digital bonus "cards" are far better than physical
Using Mobivity's Personalized Receipt Promotions in conjunction with Offers & Promotion Management, rather than doing a physical bonus gift card, benefits you five ways:
Since you are already printing the customer receipt, adding this bonus value is virtually cost-free compared to physical card delivery.

The ability to customize the digital gift card amount based on, for example, the amount of the gift cards the purchased, makes it easy to test varying bonus amounts across transactions to optimize the ratio of bonus value to amount purchased to achieve optimum Return on Marketing Spend.

Attribution reporting by offer and channel is automatic and easy with our promotion and multichannel measurement features, letting you instantaneously track the difference between the receipt-based bonus "cards" distributed vs. redeemed.

You can reliably prevent fraudulent use with our built-in secure offer code management.

Unlike a physical gift card, with laws preventing their expiration, you can limit your exposure by adding an expiration date to the bonus amount.
Let's make this easy…
With all businesses still reeling from coronavirus restrictions and recovery efforts, we want to help all Mobivity customers benefit from this combo solution. Since it requires that you have a subscription to both Offers & Promotions Management and Personalized Receipt Promotions, we're offering free and reduced-cost options for you to add these features to your account if you don't currently subscribe to both. Ask your account manager for more details.