These 4 tips for texting will help you reach customers fast and often!
To help Belly businesses benefit from customer text messaging, we've assembled these business messaging best practices. Note: we are defining "greatest success" in employing customer text messaging as using strategies that meet the three most important communications needs for businesses right now during the coronavirus crisis:
Alerting customers of important changes to how they can transact with you (store closings, hours of operation changes, adding delivery, curbside pickup, drive-through options, etc.)
Generating business with offers and product or menu enticements remotely, especially when remotely is the only way you can do business, as is often the case
Retaining or building loyalty with messages that assure them you aren't going away, that you miss them, that you genuinely care about their well-being, that you are helping the community, etc. Businesses that use text messaging this way can come back stronger when they are able to resume business as usual.
These tips are particularly useful for businesses taking advantage of our "Belly Stimulus Program" offer, which gives current and new customers access to Belly Mobile Messaging for just $79 to get them through the next 90 days.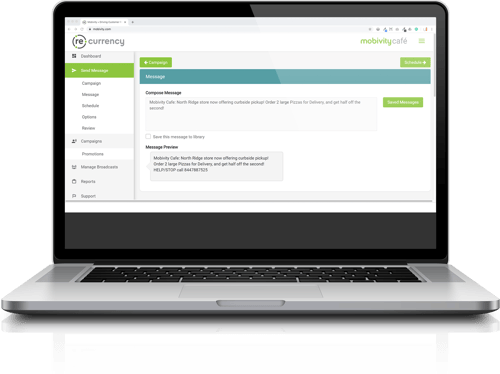 But even if you aren't using our Mobile Messaging platform, read on to benefit from these business texting best practices.
Business-to-Customer Texting Best Practices
Tip #1 — Remember ALL THREE reasons for texting customers!
Because texting has the highest open rate of any digital message delivery (compared to emailing or push messages in a smartphone app, for instance), it's important to remember and use all three key values of this powerful communication medium: alerting, building loyalty, and driving business.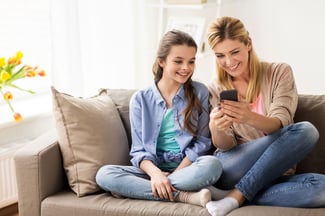 Text messaging has an open rate of 95%, according to research. This means that texting is the best way for you to stay in touch with your customer when you are not able to get them inside your store.
Even if you are completely shut down and unable to offer any products or services right now, two of these three – building customer loyalty and alerting them to important changes in your business — are valid and important for your long-term survival.
Tip #2 — Don't forget the basics!
Before hitting "send" to mass-launch your message to all your text messaging subscribers, run through this checklist to make sure you haven't forgotten anything. Yes, they are basic, but there's nothing more frustrating or embarrassing than forgetting one of them, and it happens all too often:
No matter how short the message, don't forget to include business name. The entirety of a text message is exactly and only the words you put in there. If the recipient has not included your text m

essage number in

their address book, they might have no clue who is telling them about this change in service or where to go to take advantage of this offer if you forgotten to tell them that you are Mo's or Johnson Automotive or … you get the point!
If you want the text recipient to take some sort of action, such as placing an order, make sure you include your contact info (phone number or web address or physical location, depending on the type of offer).
If you are including an offer in the text message, include any time limits ("This week only" or "Through Sunday" or whatever), especially since it can create a sense of urgency for the recipient.
Tip #3 — Be concise!
Keep your text message to just 160 characters or less. Make every word count (eliminate "the" and "and" and the like), abbreviate when it's clear (e.g., inc vs. including, hrs vs hours) and even respell some words (e.g., luv or Y love).
To help you keep your message to 160 characters or less, use ly to shorten your web address. The basic bit.ly account is free. Using it is simple: Copy the web address of the page you want them to go them to (order page, printable coupon page, menu page, etc.) into the bit.ly form field, and click "shorten" — and it magically generates a shortened version of your web address. Example, as shown below: The full address of our Belly Stimulus Program offer is 50 characters — https://info.mobivity.com/bellys-covid-19-stimulus-package — but the bit.ly version of it is a mere 22 characters: https://bit.ly/2yypiAc: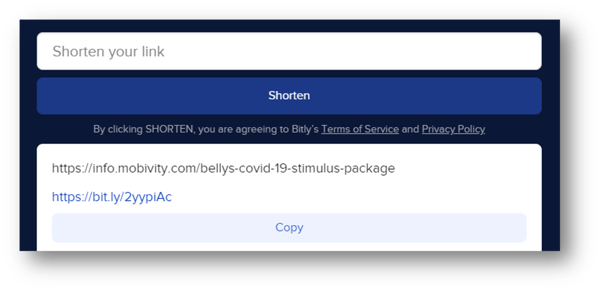 That shortened web address gives you a lot more message "real estate" to use to convey more than just your link, but the actual offer as well.
Tip #4 — Be strategic!
Pace it out: If you bombard your customers with too many messages, they may get overwhelmed and choose to opt out. But contact them too infrequently and they may forget to keep you at the top of their mind when wanting to get something that you offer. Unless these are genuine alerts that they simply MUST know right now, such as changing your hours on short notice due to governmental regulation changes, messaging them more than once a day is risky. 2 to 3 times a week is the sweet spot for most businesses.
Go big: We are all reluctant to try new things, so consider giving a substantial discount if you are promoting a service or product that you've never offered before to encourage customers to try it out. ("Free delivery all this week" or "30% of our brand-new family pack" or "Try curbside pickup & get $5 off orders $20 or more" for instance). Once they are comfortable with this "new thing" — a new product or new way of doing business with you — they are more likely to use it again even without the big intro-style offers.
Drive specific actions: If you are introducing a new type of service, such as delivery, make your offer match the action you want them to start taking: "Try our new delivery service this week and will waive the delivery fee!"
Share what you know, share what you learn!
You've heard it before — often recently! —and only because it's true: We are all in this together. Share with us your text messaging tips and ideas based on what you've learned from your own experience, so other Belly businesses can learn from your wisdom!