Use business-to-customer text messages to get you through Coronavirus Restrictions/Recovery
At a time when your customers may not be visiting your retail location, mobile messaging is fast becoming the go-to channel to reach customers fast and often with vital updates, limited-time promotions and reminders that you offer ways to support your business during this challenging time. Use these text message ideas and strategies as your own personal swipe file.
These copy-paste text messages are a handy shortcut to Belly businesses who already are using mobile messaging or who have taken advantage of our Belly Stimulus Program offer, and want to dive in right away with mobile messaging to customers. Just find a message you think will work well for your business, copy and paste it into your Belly Mobile Messaging form, modify the details to fit your business and your offer, and your spiffy message is ready to send! Jump down to your topic of choice:
You'll also note these messages use commonly understood abbreviations ("u" instead of "you" and "appt" instead of "appointment" and "thru" instead of "through" and "9am" instead of "9:00 AM" for example) when necessary to keep the full length of the message comfortably under 160 character limit imposed by text messaging protocols. We're even using shortened web addresses, which you can too! Read how. However, when your note is short enough and you've got characters to spare, we recommend you spell the words out normally, as that will increase readability a bit.
Text your customers to alert them of changes
When you are introducing a new way for customers to do business with you, or removing options or when available hours or store access becomes limited, get these messages out right away!
Recommendation: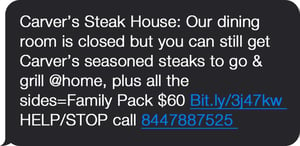 Only send the text without an offer if you are not sure what services you are yet able to offer. Example: "Mo's Garage closed Tue./Wed's" is important for them to know, sure, but it doesn't hurt to add words that might bring in more business: "Mo's Garage now closed Tue./Wed's. Get $8 off wheel rotation for all other days! Appointments: 888-555-1212". The following business alert text messages only focus on the alert, so don't forget to include an offer if possible.
Mo's Garage appointment SCHED. CHANGE: 8-10am only senior citizens & medical personnel. Anyone 10am-5pm daily.
Mo's in-store dining closed for your protection. Carryout options coming soon!
Bummer: New countywide edict forces closure of Mo's order pickup option :( Good news: We can still deliver! Start ur order: ly/etc-etc
Beginning Monday 15th, we're shortening hours. Mo's drive-thru open Mon-Thu 4pm to 8pm, Fri-Sun. 11a-9pm. More: ly/etc-etc
Use messaging to intro curbside/pick-up/take-out options
Recommendation: If you are adding customer order delivery by using a 3rd-party delivery service business, such as DoorDash, Uber Eats, or Grubhub, consider that, while doing this will help you get more business, you will lose certain advantages inherent in your other options, such as curbside, pick-up, or take-out services. For example, using a 3rd-party service separates you and your business by one step from your customers. Strategy: If you offer both delivery AND one of these other options, make offers more generous for these options than for delivery.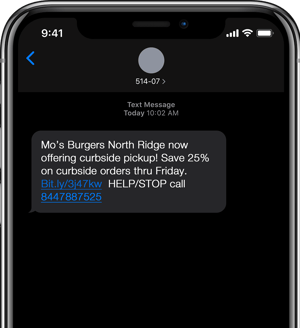 New: Mo's pick-up just went curbside! Try it and we'll say thank you with FREE DRINK on any dinner order. ly/etc-etc
Try out Mo's new drive-up service with $5 off any $15-minimum order, Franklin Dr. store only. Order in advance: ly/etc-etc
Mo's Car Wash IS OPEN. No-touch drop-off, payments & pickup. Learn more: ly/etc-etc
With our Drive-Up service option, stay safely in your car and we'll bring your Mo's Bakery favorites out to you! Call 888-555-1212 in advance to order!
Due to recent COVID-19 developments, we've temporarily closed Mo's in-store cafés, but drive–thru & grocery pickup still available. Details: ly/etc-etc
YES, Mo's coffeehouse is closed, BUT we are still roasting your favorite beans. Pick up a bag every Sat. 9-11am, or order a bag: https://our_order_page
Introducing Mo's family meals — Buy any 3, get 4th free! Available for pickup or delivery.
You can now use our drive-thru pick-up for your [food order, hair supplies, vitamins, or whatever you are offering customers via pickup]. Order: ly/etc-etc
Visit Mo's store locator for up-to-date hours of available drive–thru locations in your area ly/etc-etc
Our dining room is closed but you can still get our famous Mo's seasoned steaks to go & grill @home. Place order: 888-555-1212
Mo's Burgers Northridge now offering curbside pickup! Say 25% on curbside orders thru Friday
Five days only (thru 4/30): $5.99 ANY Mo's footlong sub. Takeout & drive-thru orders only. ly/etc-etc or 888-555-1212.
Encourage "order online" option
If your business has the option of letting a customer order online, whether for delivery, pickup, curbside or whatever, this option can save you employee time and streamline operations.
Help keep our community safe. Avoid the store and order online w/10% off your first online Mo's Smokeshop order: ly/etc-etc
Have ur Mo's Grab n Go order ready&waiting when u order online ly/etc-etc w/ curbside svc. Call when u arrive to pick up, we'll bring it out! 888-555-1212
Build customer assurance with reminder text messages

If you can serve customers at all right now, you need to assure them that transacting with you will be a safe process. Send them the occasional message about what you're doing to keep them safe. It builds their confidence in doing business with you.
COMMITTED TO UR SAFETY: If u choose pick-up, ring us up when u arrive; we'll bring ur Bongo's order right to ur car & you're on ur way! 888-555-1212
Things are changing rapidly, but Mo's is still here for you via drive-thru, curbside & delivery options. Details: ly/etc-etc
SEALED PACKAGING: We now seal shut all Mo's to-go bags for delivery & pickup to protect your meals. Place an order now: ly/etc-etc
Betcha we wash our hands more than u wash urs! :) Plus, we praise sick employees for staying home. Read our safety/disinfection practices: ly/etc-etc
HEIGHTENED SAFETY STANDARDS: Our staff uses enhanced sanitization procedures & peroxide-based cleaners to ensure a clean/safe store & work environment!
We're committed to the safety & well-being of our employees. Get updates & learn more about measures we're taking re: COVID–19: ly/etc-etc
WHO'S THAT MASKED MAN? Our masked Mo's staff doing fundraiser carwash Sat. 9am-2pm. Get ur car safely soaped down, proceeds to local COVID-19 victim families.
Picking up a Southside BBQ to-go order? Rest assured, we sanitize customer payment card touchscreens after each guest! Order now: 888-555-1212.
Mo's Burgers cares for your safety! We sanitize all surfaces & offer no-touch payments online. Call 888-555-1212 or order at ly/etc-etc
Introduce delivery service options with B2C texting
Rather than just let customers know that they can have their order delivered to them, give them a good solid reason for trying out delivery service by adding an offer. Examples:
Enjoy free delivery on every Mo's order of $15 or more, limited time!
Mo's Fine Dining now delivers! Get ur Mo's menu faves delivered via Uber Eats from all our locations. We're offering $0 delivery fee all month! ly/etc-etc
Free delivery from Maxwell & Sons Hawthorne all week! ly/etc-etc
Make life a little sweeter now with DoorDash delivery fees waived by us thru 5/31 on your next Mo's Pastry order! ly/etc-etc
Use text to promote gift card sales
if COVID-19-related restrictions prevent you from doing ANY business from your stores, you can still keep revenue-generating if you offer gift cards or digital gift certificates. Examples:
Missing Mo's Spa? We miss you! Meanwhile, buy gift cards for future visits when spa reopens. $20 bonus with $100 gift card purchase! ly/etc-etc
Luv Mo's? Buy gift cards for visits when our stores reopen. $20 bonus with $100 gift card purch. ly/etc-etc
Mo's gift certificates are great gifts, usable as soon as our stores reopen. By 3, get 4th free! Place order: ly/etc-etc
Employ texting to stay in touch when shut down
For those businesses that have absolutely no way of transacting financially with customers right now, it's still important to your eventual bounce-back to let them know you'll survive this and look forward to serving them again. For example:
We're still here. Well, not HERE here, since Mo's employees are home, self-isolating. But we aren't going away & look fwd to serving u again when we can :)
Until we can reopen for business, our Mo's chefs are busily experimenting
from their home kitchens with new entrée ideas. Stay tuned to hear what's cooking!
Best wishes to you and yours in these trying times. We care! Love, the whole crew at Mo's Boutique.
Family going bonkers fr. Home isolating? Mo's staff too! Try one of these 20 fam-friendly games https://bit.ly/34uZUaJ
Get customer feedback using text messages
How are you doing? Are you texting customers too often or not enough? Best way to find out: ask your customers.
Are our Mo's Smokes text msgs helpful & well-paced? Reply w/number. 1 = Great, keep 'em coming! 2 = Good, but too frequent. 3 = Good, but more often pls! 4 = Not helpful :(
Are our adjusted Mo's service offerings & menu offerings working for you? Tell us: ly/etc-etc
(With this one, the assumption is that you are linking them to a survey, which you can set up for free at surveymonkey.com)
If you tried our new Mo's sizzlin' ribeye dinner delivery special, did you like it? (Reply y for yes, n for no)
If you tried our new Mo's sizzlin' ribeye dinner delivery special, do you want it to stay on our menu (reply y for yes, n for no)
We might add curbside order pickup at both Mo's locations. Useful option to you? (Reply with Yes, Maybe, or No)
We'll be adding new text message templates when we come across more worth sharing, so bookmark this page!
Read next: Business-To-Customer Texting: Doing it Right — Get best-practice tips for a strong mobile messaging strategy.