Get a jumpstart on your competitors with these steps to reopening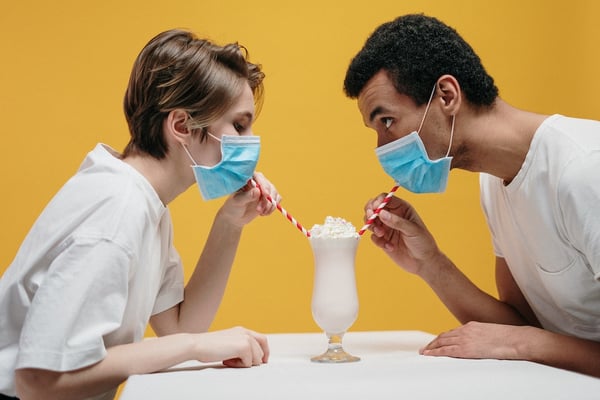 The rules of the game for running a retail business are changing once again as restaurants, salons, auto shops and other businesses are, region by region, finally being permitted or advised to open, at least in a rules-adjusted way (maintaining COVID-19 heightened hygienics, service areas modified for social-distancing, etc.).
We can hope that your customers are itching for your services or products just as much as you are itching to provide them. Whether you are already open for business or will be in days, be like our wisest Belly customers who are taking these seven pre-reopening steps get going with a bang.
#1 — Be ready to assuage concerns
A worry that all retailers have is, "Will they come back, or will they be too afraid?" There are no guarantees, but you can address their concerns by:
having a solid, reassuring strategy for safeguarding customers
communicating it to your employees; and
immediately getting the word out to your customers before they reached the store.
There's no reason to wait; this can all be done before you reopen!
#2 — Use the Belly force, Luke…
The good news is, your Belly tools can help you deliver those reassuring words of safe and caring service to your clientele. For example:
Hear ye, hear ye! — Immediately get the word out with a Belly alert email, letting customers know about your safety practices for opening your service area or dining area and for interacting with your employees. You've already got the email address of your most loyal customers.


Adjust your Belly Bites offer. Belly Bites are the easiest way to attract brand-new customers, but you may still have up an old offer that no longer applies, or no longer carries the same draw after the countrywide shut down. Take a look at your current offer and adjust it as needed to give them a reason to come in now, other than the fact that you're open. Include language in the offer that tells them why it's safe to do business with you and what specifically you are doing to make it safe.


In your Belly command center, go to the upper-right menu option of Customize My iPad and update your iPad Home screen to announce your safety practices for reopening. Any new customers are likely to see this before they ever step foot in your locations. And you can have up to three images and three headlines in rotation on that home screen, which means you've got plenty of space to deliver multiple messages (sanitizing, spacing between other guests, touchless payment options, an offer etc.), by spreading them out between those multiple images and headlines. Here's an example of one, showing how to use your iPad home screen images and language to support your reopening:
Use the Belly social media campaign tool — This can be the easiest way to get the message out to your customers before they even know that your store is open. You can manage all your announcements in one fell swoop from within Belly, including Instagram, Facebook, Twitter, Yelp, or Foursquare.


If you have already signed up for the Belly Mobile Messaging service, it's the most immediate way to notify your customers of service changes and offers. We cover this in more detail in #6 below, including how to get people to opt in for these text updates.
#3 — Offer contactless payment options
A customer may be reluctant to touch the keypad to digitally sign a credit card purchase order to enter their debit card pin. Have a plan for this. Examples from other Belly customers:
You can do this manually by setting up procedures with your cashiers to offer a fresh pen or stylus by having two cups or buckets, one containing the freshly sanitized pen, the other for the customer to discard

into. The stylus or pen can then be sanitized between customers or during slow times — and advertise the fact that you are doing this!




Encourage customers to pay for their order online, if you have that option available, which saves them the trouble or risk of having to touch your purchase pay pad when they arrive to be served in person.


Work with your merchant processing service provider to start accepting Samsung Pay

,

Apple Pay

,

Google Pay, Fitbit Pay and other EMV payments, or any bank mobile application that supports contactless.
With all of these options, your customer can make payments for your product or service from the convenience and safety of their mobile phone, and without physical contact.


#4 — Use the siren call of a great offer to reel them in
If your customers are finally getting brave enough to try going into your business, encourage them to do so right away with a significant offer with a deadline. This is especially important if your customers have the choice of your business or your competitor's! So, make a compelling promotion to give you the competitive upper hand. Even if it's a loss leader promotion, it's going to be hypercritical to get them in the door and immediately comfortable with doing business at your store. A compelling offer will do this. The result of drawing them in with that offer is that they will probably go back to your place if they found the experience pleasant, enjoyable, and reassuring.
#5 — Turn on your Belly iPad contactless feature
Your loyal customers will want to do a Belly iPad check-in so they can earn points or use Belly app coupons and offers. But because of coronavirus contagion concerns, some of them may not want to touch the Belly iPad to do so. No problem: Belly has a touchless, Bluetooth-based remote check-in capability that you can optionally ask your Belly support rep to turn on. In light of the pandemic, NOW would be a great time to exercise that option! Providing touchless options is what all major brands are doing right now. Having touchless options yourself, and promoting the fact that you do, will make you competitively strong.
Turning on this Bluetooth-based feature makes it possible for a customer to perform the Belly iPad check-in by merely having their mobile device within proximity to your Belly iPad. Once your Belly rep flips the digital switch on the backend, you need to turn on Bluetooth on your Belly iPad. For your customers to do a Bluetooth login, they'll need to turn on their Bluetooth functions in their phone and be within Bluetooth signal range of the Belly iPad.
#6 — Launch a mobile messaging campaign now!
If you are not yet a customer of Belly's Mobile Messaging platform, now would be the perfect time to introduce it and put it to good use. Here's why: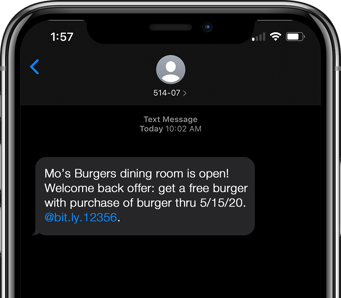 Mobile works! Research shows that SMS text messages have an open rate of 95%, compared to email, which has only a 5% open rate.
Because of the corona
virus business restrictions, customers are expecting things to be a little different. This means they will be more accepting of you introducing a new way of communicating with them beyond email.
Text messages are typically perceived as containing a timely message, and so they are more likely to be read with the expectation to act upon the message.
To help businesses during these times a business restrictions, we have made it
significantly easier to try out Belly's Mobile Messaging, dropping requirements for annual sign-up and creating a 3-months-for-$79 offer to get you started — our own stimulus package, if you will.
Don't already have your customers' mobile phone numbers? No problem:
If you are using the Belly app with your customers to build loyalty, then you already have their email, and can use an email campaign to announce your new mobile messaging service to keep them informed as things change, and to ask their permission to reach out to them using
You can also use your Belly social media campaign tools to announce your mobile messaging service and to request their sign-up.
#7 — Let's get physical! … at least with signage
Since not everyone is on their phone or in their email all the time, make sure you've got all your bases covered by including large, hard-to-miss physical signs at your location with a message such as, "Dining Room Now Open" or "C'mon In, We're Open Again" or "Try our welcome-back special!" or the like. If you are opening too soon to get big signs made professionally, try one of those tried-and-true promotional methods, such as window hand-painting of your message, or hiring someone to stand out by the curb with a big sign and wave them in!
Contact your Belly support rep to learn more and get started.