Can the M*A*S*H approach work for B2C emailing during the coronavirus recovery phases?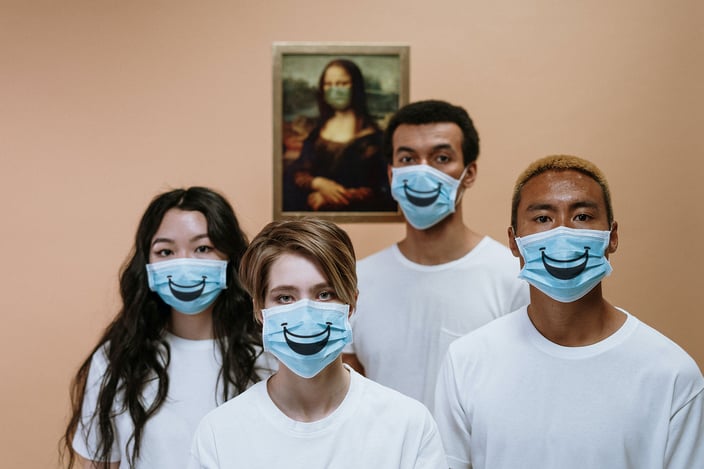 We'll first state the obvious: The world is struggling to work itself out of one of the greatest trials of its last 100 years. For good reason, most businesses at this time are using a sober approach in their email with customers, focusing on:
Empathy — "We are with you … We want to help you..." etc.
Facts — Clarifying what the business is doing specifically to help the customer, such as modifying its business model to provide its products or services in whatever way they possibly can.
This suggests that humor is misplaced right now. Or is it?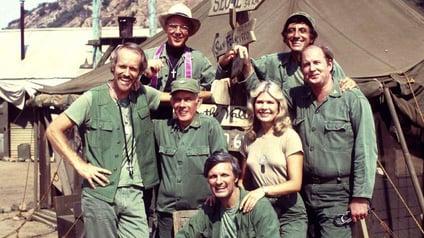 The fact is, in the midst of the most sobering events, people often find sanity in humor. That was the secret sauce that made the M*A*S*H TV series so successful — taking a subject so dark as the Korean War and finding the funny in the midst of it. Were they on to something?
Likewise, some businesses have chosen to employ humor in their customer communications during the coronavirus pandemic, and are even doing it successfully. They are striking that balance of being lighthearted (at a time when, let's face it, we could all use a laugh) and yet not being flippant or making jokes that are inappropriate to a business-to-consumer communication at any time.


Potholes on the tried-and-true route…
If you are at all uncertain, take that safe route, and stick with the empathetic, fact-filled approach. But recognize that even these tried-and-true approaches have risks — such as the risk of doing what everyone else is doing, as this video humorously demonstrates.
Like, seriously, does it not seem like every other TV ad or email you receive from a business these days includes the phrase "We are in this together"? The more we hear it repeated, the less meaning it has. The more you do what everyone else does, the less you will stand out. If your business is in a competitive market, you need to stand out!
If on the other hand you dare to use humor in your email communications to customers, yours may be the one business and the one offer they remember and respond to. Humor will definitely get their attention. That said, follow a few commonsense rules. We'll provide real-world examples of this but, first, here are...

Four commonsense rules for using humor and business-to-customer email:

If you choose to try humor, here are two things to avoid followed by two things to consider:
Don't make jokes about the coronavirus situation. While most of us can laugh about some of the silliness going on (there are plenty of online jokes about people self-quarantining with family members, for instance), let's not forget that some have actually lost friends or relatives to COVID-19.


Definitely avoid politics or religion, just as we are all advised to avoid when at parties. These subjects divide, and you want your customers to unite in one of these things with your email: either doing business with you and/or having good feelings about your business.


Use humor to distract, just as they did in the M*A*S*H TV show, set in the middle of a war zone. You may recall that most of its humor was not about the war itself but about interrelations between M*A*S*H unit staff members or the light side of their common frustrations with Army protocol and regulations. Likewise, use humor in a way that reveals the lighter side of life, which is continuing on around us even as coronavirus rages on.


Do get to the point. While humor can be a great way to "grease the skids" and get your email reader thinking positive thoughts about life and your business, you still don't want to waste their time. They know you are a business and that they are a customer; use humor, sure, but include what they really need from you just as much: to know that you care about their situation and to know what offers you have or how to do business with you in spite of coronavirus restrictions.

Examples of effective use of humor in B2C email
Let's look here at a couple of examples of well-placed, well-timed B2C humor, both from small local businesses, and see how they stack up to these humor rules.
An Idyllwild chocolatier invoked the spirit of Oprah
In the Southern California mountain hamlet of Idyllwild, El Buen Cacao — a true mom-and-pop shop — used humor in an email to their customers, successfully striking the balance between giving customers something to laugh about while also giving them something to purchase, and the means and motivation to do so. Note: we've added the highlighting and the numbering to draw your attention to the points we'll make afterwards: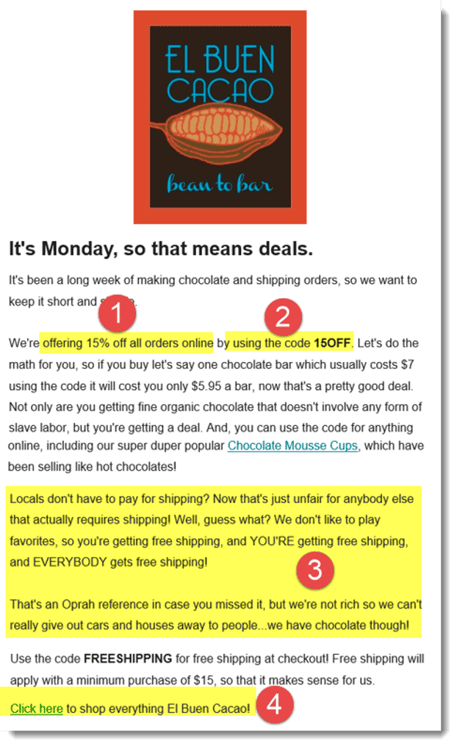 Step-by-step, here's why this email works:
The business gets right away to the business of the offer: 15% off online orders.

They include the facts on exactly how to take advantage of that offer.

Their choice of humor is specifically related to the offer itself (not about coronavirus), invoking the spirit of Oprah and her penchant for giving things away on her TV show.

They close with a link to their website so a person can place their order.
Let's take a look at one more example, also from a small business…

A limousine service used an infographic to mix humor & facts
New York's Carmel Car and Limousine Service used an infographic in their customer email that uses a visually engaging and subtly humorous approach to point out each of the steps they are taking to make your use of their services easier and safer. Let's break that email down: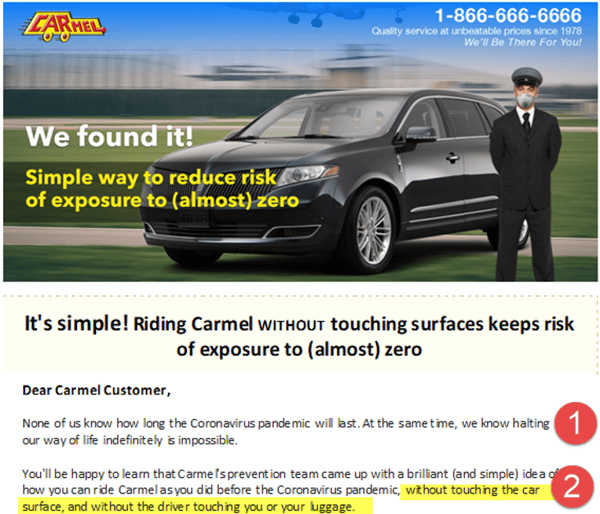 They get right to the point with the text they put over the image, providing a straightforward and comforting message to their customers — that they have found ways to reduce the risks of doing business with them. Note that the added the facemask to the driver… not overt humor, but this is a change to a very standard image, and will definitely grab the reader's attention and curiosity. The intro paragraphs provide (1) recognition of the difficult situation we are all in and (2) what they are doing about it to help you do business with them. Then comes the infographic itself: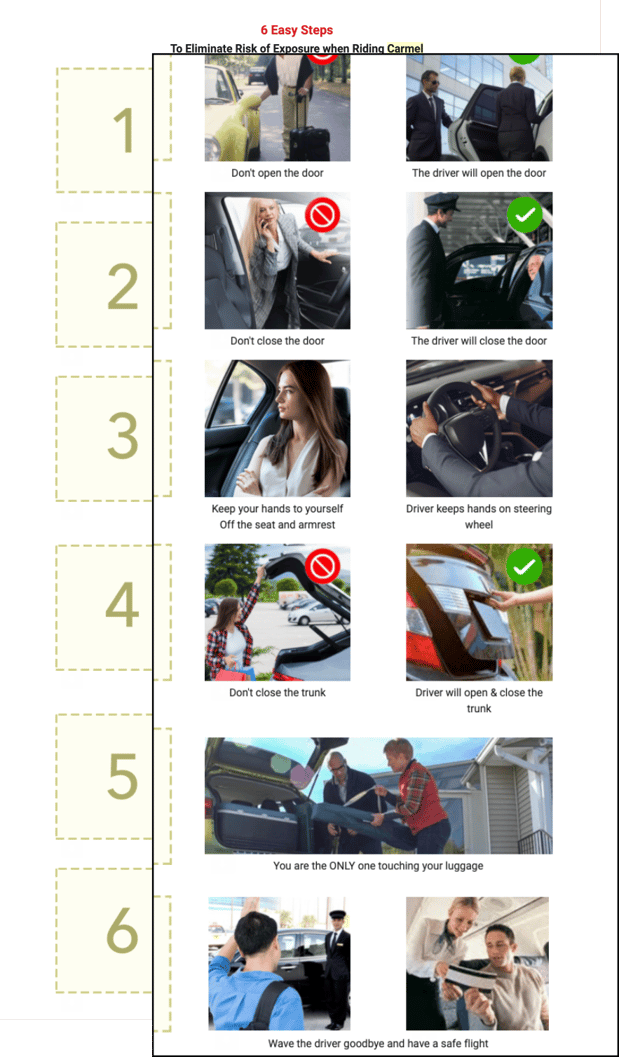 The infographic visually draws in the customer, more so than words alone ever could, and genuinely educates them on the safety protocol. By providing the "don't do this" column alongside the "do this instead" column, you can see they've gone to great lengths to clarify how much they care. And here's how they closed off the email:
We have instructed our driver to follow up on these newly preventative steps. Together we can resume our life without increasing risk of exposure to the Coronavirus. We hope to see you soon in one of our cars and be part of our life again. With nothing but admiration.
In those final two sentences, they once again used a very subtle form of humor to close out the letter, so subtle that the average person might not even get the humor — which is a clever way of making the customer feel smart if they do in fact get it, yet done in a way that someone who doesn't "get it" and takes it at face value will still appreciate the sentiment.
The most overt humor they saved for the last…
Have you tried humor? Did it work for you?
If you have your own examples worth sharing with others, please share them with us! We may feature your example in an upcoming blog, and will thank you by including a link back to your business.