Use these business-to-customer emails as examples to help you structure your own emails during COVID restrictions and recovery phases.
Here are three B2C email messages from other businesses that are worth adding to your "Swipe File" — that collection we all keep of awesome real-world examples that we might want to emulate, or as inspiration for our own customer communications. (Read more about swipe files and how to use them with your Belly campaigns.)

The emails below were specifically designed for use during the pandemic's restricted-business and business-recovery phases and can serve as a handy shortcut to Belly businesses using Belly's Campaign tool in the Belly Command Center. Just choose one of the emails that matches your coronavirus restrictions situation and the kind of message you want to send and then, if this is your first time, follow these brief Belly Campaign instructions on how to modify one of these gems below, or how to modify an email from your own swipe file.
Example 1:

An offer promoting pickup or delivery
is a well-executed email campaign from Coco's restaurant designed to promote specific purchasing channels — pickup or delivery in this case. It's the kind of restaurant you would normally choose for a sit-down meal, something they cannot presently offer due to coronavirus restrictions, and so their customers may not even know that they offer delivery or order pickup — their only available options presently. For this reason, they've made an offer that is available only for those who try one of those two options, while also providing info further below designed to assure customers of their commitment to cleanliness and customer safety:
Note one other smart strategy: the addition of creating the offer to be for the whole family. This is strategic, knowing that their target audience is likely a family AND likely together at home. By offering a special discount for those who order a meal large enough for four people, everyone benefits. The business sells more and the customer gets a price break.
Example 2:

An offer promoting takeout or drive-through
Here is another spiffy email campaign, this one done by Subway, one of our parent company's national customers.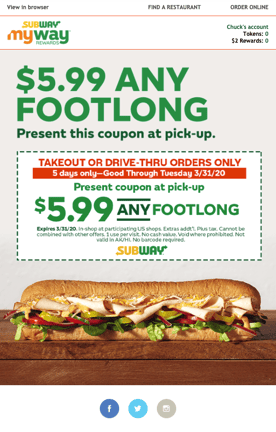 To do something similar for your business using the Belly Campaign to, just break down the key elements of this offer, and enter them into your Belly campaign form. For example, you can use as the subject line "Just $[your pri
ce] for any [enter your targeted menu item], takeout or drive-thru orders only!" and enter into the headline field "For pick-up and drive-through orders only: just [your price] for ANY [your item], and use the rest as the model for your body copy.
Example 3:
Converting fine dining to curbside pickup

Popular winebar Postino, a Phoenix-based Southwestern fine dining restaurant chain, had a particularly tough challenge, modifying its business from a place people would go — no longer an option during the coronavirus outbreak — to becoming a winebar "to go." Like most fine dining businesses, they have no drive-through window. They have solved this with online preorder and curbside order pickup.

And also like most fine dining restaurants, holidays are a big time for business that they stood to lose without the ability to seek customers.

The solution: Here is the email campaign they used to bring in customers for Easter — an email campaign that could easily be modified for any family holiday, such as Mother's Day or Father's Day, or possibly modified in concept to work for your business.

We will be sharing more great examples of email campaigns in upcoming blogs, so stay tuned!