Personalized and Engaging Messages for Every Order
To-Go Bag Messaging uses the data gathered at the point-of-sale (POS) for every order and prints a rich and engaging message with a personalized offer for every guest. This helps brands convert every receipt into a revenue-building message for every guest.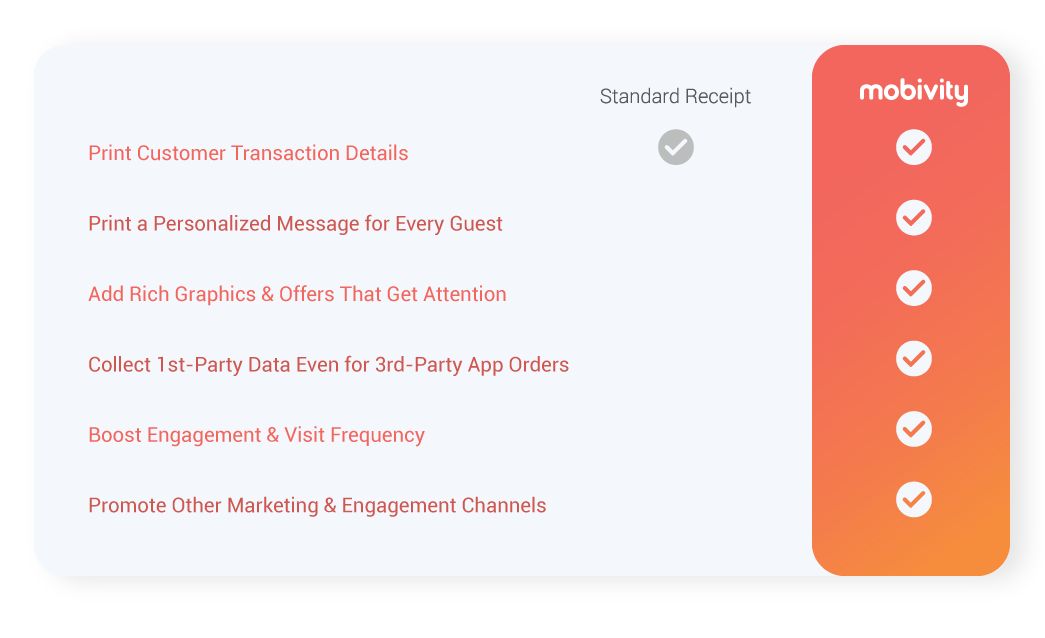 See How To-Go Bags Can Keep Guests Buying Again and Again
The Perfect Engagement Channel for Your Off-Premise Expansion
Turn every to-go order into an opportunity to engage directly with guests and build the valuable 1st-party data you need to grow guest loyalty. To-Go Bag Messaging is the ideal owned media channel for nurturing stronger relationships with even those guests ordering through popular 3rd-party delivery apps that limit the engagement between brands and their guests.
To-Go Bag Strategies That Drive Engagement and Build Loyalty
As traditional dine-in gives way to online ordering and contactless to-go options, brands are seeing an overall reduction in their engagement with customers. This is having a big impact on their ability to control the customer experience, drive loyalty, and boost sales. Engaging guests directly with the one thing every takeout guest receives... a to-go bag... drives more frequent visits, boosts average ticket spend, and builds loyalty.