Personalized and Engaging Offers at the Point of Sale
Mobivity SmartReceipt is behavioral marketing with a dollop of awesomeness! With the patented ability to dynamically print a personalized offer on every guest receipt right at the point of sale, it's no wonder clients call it real-time social retargeting. Take a look at why brands love how we help them transform ordinary receipts into a revenue-building marketing channel.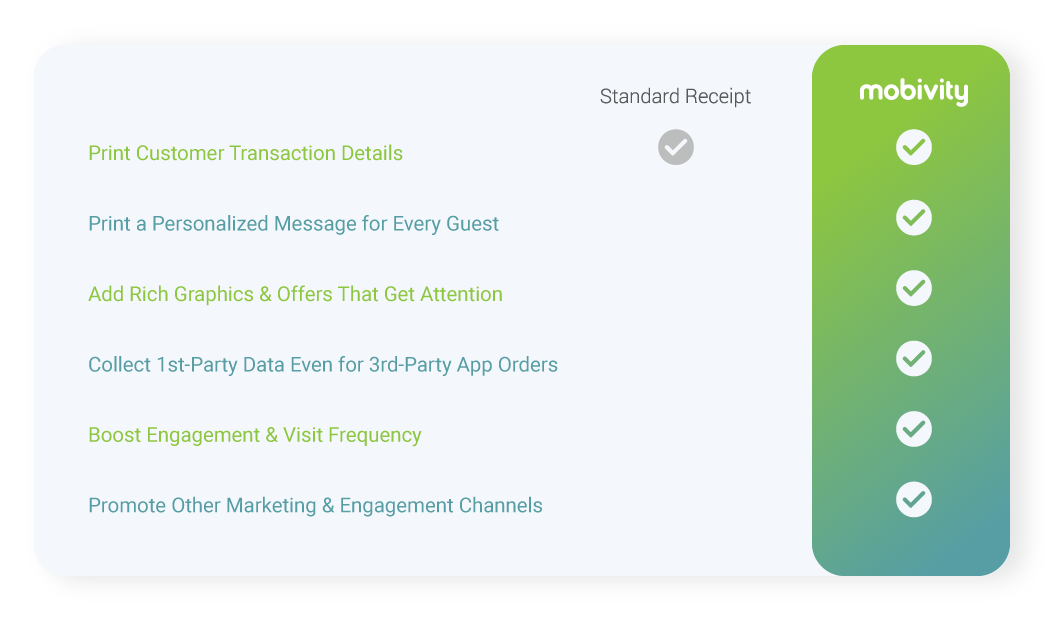 The Perfect Marketing Channel for Your Off-Premise Expansion
Turn every order into an opportunity to engage directly with guests and build the valuable 1st-party data you need to cook up some loyalty. SmartReceipt is the perfect owned marketing channel for nurturing stronger relationships with both dine-in and takeout guests. It's time to put a little sizzle into your receipts.
Analyze Guest Engagement and Incremental Ticket Spend
Every brand wants to increase visit frequency, average ticket spend, and loyalty. Our patented SmartReceipt analytics help you determine what type of offer will lead to higher conversion rates, as well as how much incremental sales each offer produced. Now that's a smarter receipt!