Use Recurrency™ to keep your guests informed during the COVID-19 recovery
The Coronavirus recovery phases create a fluid business environment, often changing how you continue to do business, and often in different ways based on store location. How do you stay nimble with guest communications? You've already got the means in your Mobivity toolbox: Recurrency.
In this article, we'll look at why mobile messaging is by far the best way to reach the bulk of your guests, and how to use Recurrency to keep guests in the loop as you modify operations, hours, store access or offers in response to these changing situations.

Instant and targeted texting is the key
While you've likely used our platform to create standard routine messages, such as a weekly offer, Recurrency is also a power tool for performing ad hoc customer communications — critical when you need to instantly change store hours, store availability (such as becoming open for delivery or pick up only), or when you need to close some stores completely.
Target the right message to the right guests
Recurrency excels at identifying who a particular message needs to reach. The operational changes you enact could potentially affect all stores or any subset of stores (based on state, county, or city regulation changes, for instance, or a situation involving just a single location). Recurrency lets you easily specify recipients based on location or other parameters. This means you can choose to reach all customers at once or target only a specific segment, such as sending it to stores within an impacted area.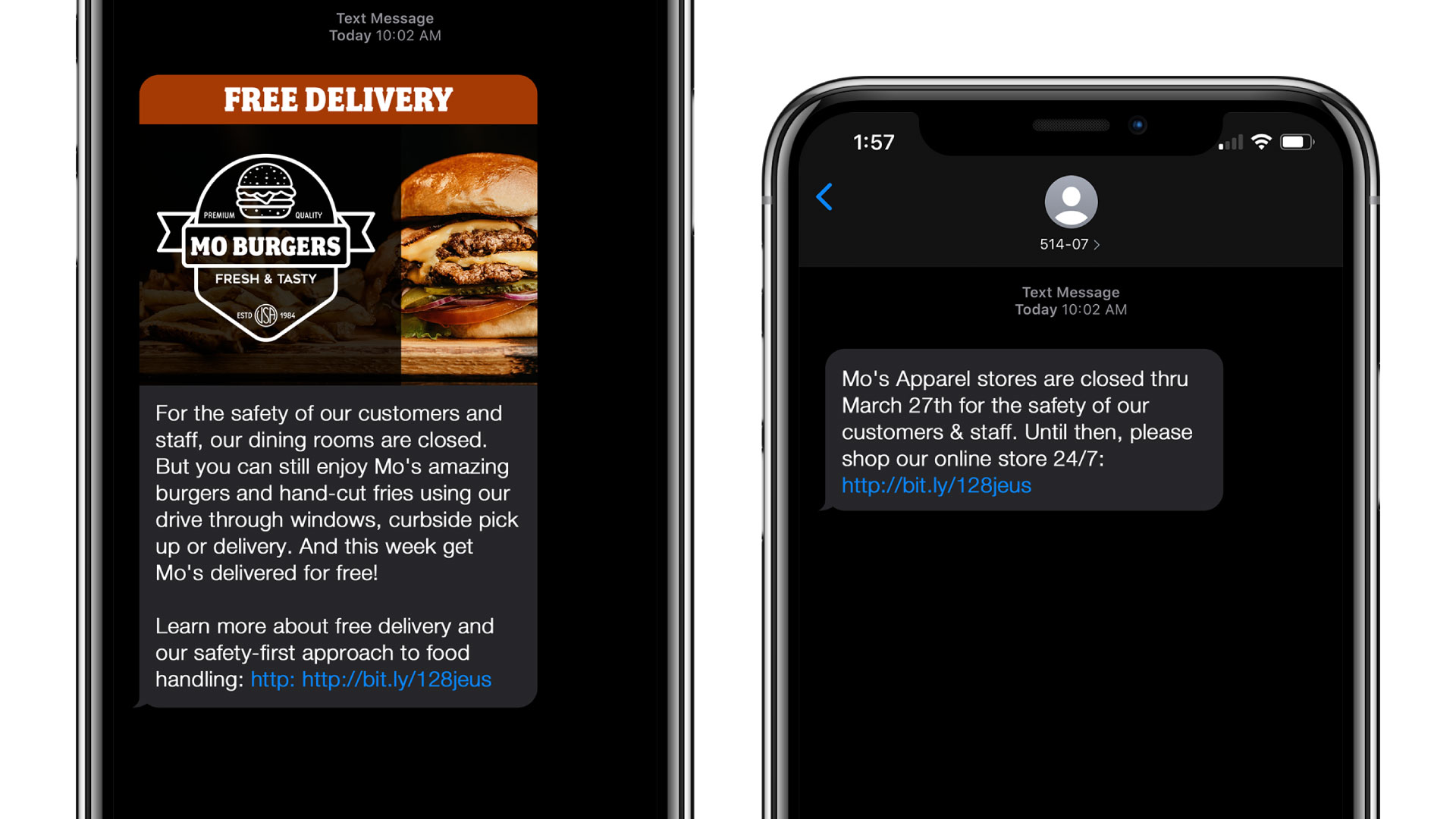 Mobile messaging reaches more customers, by far!
As you likely know, the open rate for text messages remains strikingly high at 95 percent. By comparison, email open rates are lower than 5 percent. And this relatively poor email open rate is likely running even lower during this health emergency with the increase in messages being sent from dozens of businesses, resulting in inbox fatigue.
Text messaging is presently the best channel to use when you need to ensure that most of your customers will actually open and read your message.
But use multiple channels for greater reach
You might be tempted to focus all of your communications on a single, preferred channel, such as app push messages. However, based on data analyzed across millions of redemptions at our client's 40,000+ stores, we've learned that there is little overlap regarding which channel a customer will use as their preferred method for ingesting communications from businesses. Some will choose to use your app, if you have one. Others respond to an SMS message. And a few will still prefer to open and read messages sent by email. In the end, we found less than a 10-percent (and, in most cases, less than five-percent!) overlap between people responding to offers delivered via mobile messaging, app and loyalty, email, and even FSI's.
Rather than force communications into a single channel you prefer, use all of your channels to keep customers informed and buying during this crisis, and they will engage based on the channel they prefer.
We can help personally!
Many of you have shared with us some of the challenges you're facing operationally, and we are making changes ourselves to be on standby, ready to help you stay engaged with your customers.
We are encouraging all our staff who are able to work from home to do so to support government-recommended social distancing. That said, rest assured you can reach out to your Mobivity Customer Success Manager, who is ready to share strategies and best practices with you for dealing effectively with time-sensitive customer messaging, and can even walk you through how to best deliver ad hoc communications using Recurrency or assist with campaign set up, if you are not familiar with or comfortable with the process.