When it comes to running a successful business, having the right tools and processes in place are a must. But as any business owner knows, your employees and staff are the keys to ensuring these processes run smoothly and operate at the maximum level. Often, all that separates an under-performing staff from a top-performing one is simple motivation. People enjoy being challenged and engaged, and if employees feel 'stuck' doing the same thing day in and day out, your customers can tell, and profits will suffer.
This is why many innovative business owners are turning to gamified employee motivation solutions, which take an innovative, real-time approach to employee motivation. With individual, team, and even location performance metrics recorded and showcased in real-time, employees know exactly how their performance stacks up to the rest of their peers, resulting in higher performance outcomes and increased profits.
What are some added benefits of employee motivation?
With happier, more engaged employees, your team can drastically increase customer satisfaction, upsells, and repeat customer visits. Too often, teams can get bogged down by sales targets, weekly quotas, and location comparison charts, and everything just starts to run together, making little to no sense for the staff actually on the floor. With gamified employee motivation solutions, employers are able to turn motivation and competition into the new normal and create an easy-to-understand set of metrics to grade performance and success.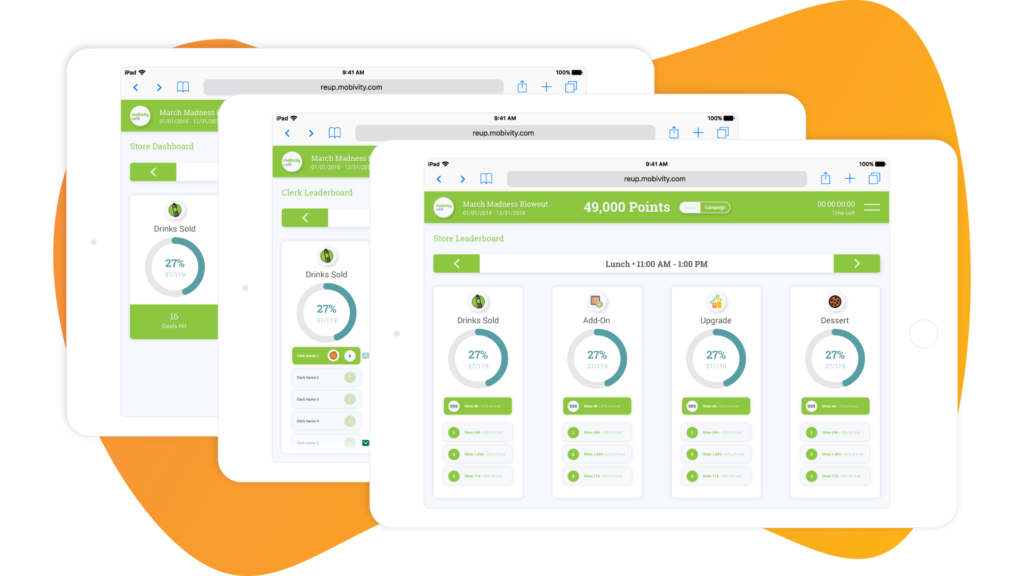 Other benefits of a gamified employee motivation approach include:
More Involved, Engaged Employees: When employees understand how their day-to-day performance is impacting the bottom line of an organization, they are more involved and dedicated to that end goal. By tracking employee performance metrics in a live, universally-accessible location, employees are more motivated to make decisions based on the good of the company. Your organization can expect to see more engaged employees offering up more suggestions and opinions to help move your business forward.
Better Accountability and Performance: Employees are also more motivated to perform at a higher level across the board. Most everyone enjoys a little competition, and with gamified employee motivation solutions, the competition is exciting and performance-based. When one Subway franchise implemented an innovative employee motivation solution, the team actually saw an incredible increase in inventory accuracy, less food wastage, and increased employee morale.
Increased Customer Satisfaction: Your employees are the face of your organization, and they help set the entire tone for a customer's visit to your place of business. If team spirit is down or if performance has dipped, it can drastically impact your customer satisfaction rates. When employees actually have 'skin in the game', so to speak, and are actively aware of how their actions and output are impacting the company as a whole, they're more likely to be happier – and make customers happier at the same time.
How to get started with employee motivation.
If you're not thinking about finding new, innovative ways to motivate your staff, you could be giving up the chance to take both your employees and your organization to the next level of performance. More engaged employees means happier customers, which can lead to increased customer frequency and drive higher profits.
To truly increase your bottom line and step up your employee motivation game, Mobivity's Reup is the only solution that helps organizations monitor, measure, and reward employees to maximize performance and profits. The Reup solution actually displays employee progress and goals on easy-to-read tablets and monitors so every single person — regardless of location or team — knows exactly how your organization is performing as a whole and at the individual employee level. Your employees are your most valuable asset, and an oft-overlooked source of revenue growth. With Mobivity's Reup, your organization can: