How Papa Gino's Pizzeria & D'Angelo Grilled Sandwiches used SMS messaging to employ established marketing strategies to drive significant gains in transactions and revenue
---
A Dire Situation
The New England chain restaurant Papa Gino's Pizzeria and D'Angelo Grilled Sandwiches (PGDA) faced the same daunting survival challenges in 2020 that other sit-down, casual dining restaurants faced when coronavirus struck: an ever-shifting ruleset of severe restrictions to normal operations, restrictions that continued throughout the first three quarters of 2020.
PGDA and other casual dining restaurants responded to the COVID pandemic restrictions that closed their dining rooms by shifting to take out and delivery so that they could continue to serve their customers. But this led to a new need: how to let customers know about these new service options and motivate them to return.
Even before coronavirus gripped the nation, PGDA recognized that the decreasing ROI of direct mail and television limited the value of such traditional solutions.
To thrive during the digitally evolving world of their customers and a world of COVID 19 upheaval, PGDA needed an outside-the-box solution to engage directly with their existing customers and attract new customers in order to drive increased frequency and spend.
---
Approach: Apply Long-Proven Marketing Strategies Using Digital Solutions
To generate a successful turnaround, PGDA turned to Mobivity's AI-powered Recurrency™, a platform dedicated to empowering brands and franchisees to access all their customer data in one place and then act upon that knowledge with digital solutions that connect them to their customers.
Mobivity had already worked with PGDA in 2018 to develop a successful subscriber acquisition plan, engaging PGDA's loyal customers through its various owned channels, in conjunction with Point-of-Sale provider Toast, to ingest daily PGDA guest transactions. This earlier and highly successful campaign laid the groundwork for PGDA 2020 campaign by enabling full campaign attribution insight and generating critical customer engagement data for accurate customer attribute segmenting.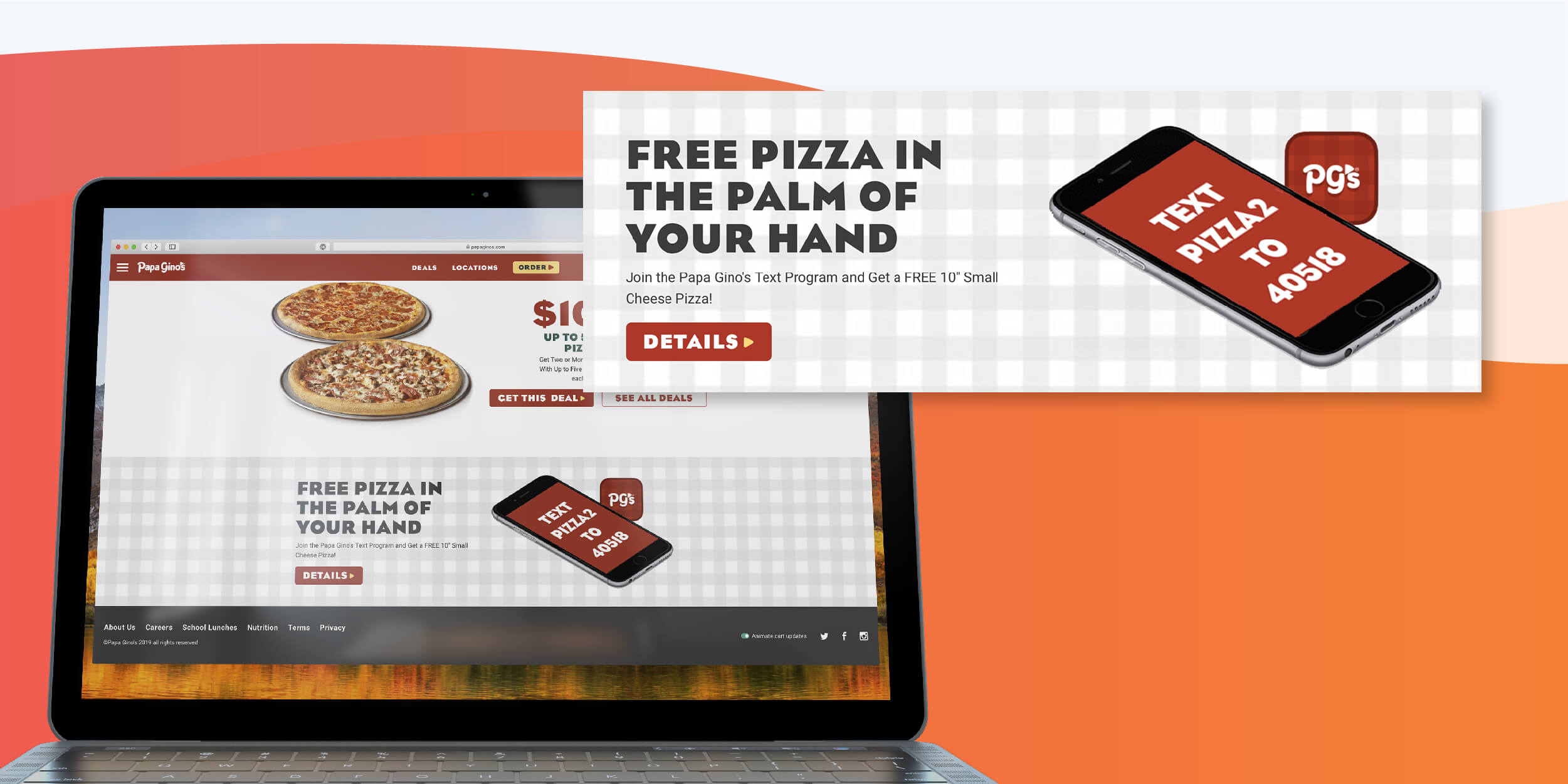 And then along came the COVID pandemic, leading restaurants to close their dining rooms. Restaurant brands from coast-to-coast, including PGDA, knew that the best hope to survive would be to shift to take out and delivery. This is when PGDA truly realized the value of owning the mobile messaging channel as it began to leverage in 2020 it's amassed first-party customer data to make that shift and bring customers back to their stores.
To achieve the award-winning results, PGDA zeroed in on Mobivity's Unified Mobile Messaging platform as a campaign foundation to reach their customers on their most-used communications channel: the mobile messaging app. PGDA sent mobile messages to their existing customer base using Mobivity's data-driven actionable intelligence to match the message to the customers' previous buying behavior and trends — essential for targeting the right customers with the right incentive, with "right" defined as sufficiently motivating lapsed customers while not unnecessarily incentivizing active customers who would likely purchase without any incentive, or with less costly incentives.
For example, using Mobivity's platform, PGDA segmented customers into groups, including one campaign that targeted guests who had not visited in the 90 days prior to COVID restrictions — and pinpoint-messaged them with various "come back" offers.
This segmented approach with actionable results measurement empowered PGDA to not only identify important subsets of their broader audience but then target their guests by key factors, such as when or how frequently they visited, and then test different offers within each segment, measure the results, and adjust the campaign offers and messages for optimized frequency and timing of message offers and amounts.
---
The Results
PGDA realized the value of owning the mobile messaging channel as it amassed valuable first-party customer data through its campaign. PGDA sent out campaign's targeted offers amidst the pandemic when dining rooms were closed and stay-at-home orders were in place in New England minimizing foot traffic.
The SMS mobile messaging campaign targeting its SMS subscriber base drove twice as many return visits as non-SMS subscribers.
The SMS campaign also drove 17 percent more return visits than similar incentive offers sent to members of the company's loyalty program.
Most notably, PGDA got all of these phenomenal results while achieving an average Return of Marketing Spend of 440 percent, during the pandemic.

In the words of PGDA's chief marketing officer, Deena McKinley, "Our investment in Mobivity's Recurrency Platform has more than paid for itself and has been a key tactic in driving repeat visits, resulting in significant transaction growth prior to the impact of COVID."
"Our investment in Mobivity's Recurrency Platform has more than paid for itself and has been a key tactic in driving repeat visits, resulting in significant transaction growth prior to the impact of COVID."
She added, "Investing in driving customer adoption of this new digital channel allowed us to continue to produce sales while our dining rooms were closed and while walk in business was negatively impacted due to stay at home orders in New England."
McKinley expressed confidence in Mobivity's ability to accurately segment and deliver the right offer to the right guests: "Producing these results, especially bringing back customers who had lapsed, simply wouldn't have been possible if we'd only had traditional paid media channels available. Building a Mobile Messaging program is a game changer for brands navigating today's challenging business environment."
---
Emerging new technology with well-established marketing wisdom works
Two lessons learned from this case study that are applicable to any restaurant's campaign is that the basics of good marketing strategy, established more than 50 years ago, still apply today:
Use actionable data intelligence to target customers.
Strategically incentivize with offers that prove out.
Papa Gino's and D'Angelo Grilled Sandwiches showed that these age-old adages apply today, even in during times of COVID 19 restrictions.