It's officially Fall, which means the leaves are changing color and the days are getting cooler. Speaking of cooler, we're excited to share the latest updates to our Unified Guest Engagement Platform in this month's roundup.
SmartMessage™
Innovative Trusted Redemption™ Feature
Wouldn't it be great if you knew exactly who redeemed every one of your promotional offers, when they redeemed it, and where they were when they redeemed it? To a marketer, that kind of detailed attribution is priceless because it allows them to know exactly which offers are driving guest behavior and leading to purchases.
That's why we're so excited about the Trusted Redemption™ feature of our SmartMessage™ solution. This unique feature allows brands to know exactly which text club subscribers are redeeming which offers, when they redeem them, and at which stores. That's because every text message sent with a "Redeem Now" call-to-action includes a unique link for every individual subscriber.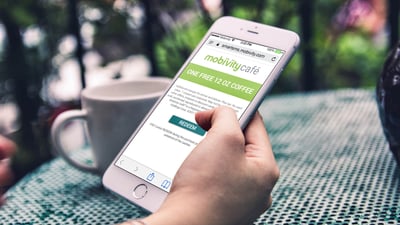 If you see, for instance, that a customer consistently redeems a particular offer every time you send it, you can be pretty sure they really like that offer. Likewise, if another customer rarely redeems a particular offer, well, then you can bet they probably aren't too keen on it. Either way, that information is super valuable since it allows you to create better offers in the future.
Some vendors might claim to be able to do this, but looking closer shows that they actually provide the same link to every subscriber. I guess that's helpful too, but not nearly as helpful for data-driven marketers who appreciate knowing exactly how their text club subscribers are reacting to every offer.
This direct attribution between individual subscribers and the offers they're engaging with is some of the magic behind the subscriber segmentation capabilities we use to personalize messages for each subscriber. This is how we enable brands to build stronger relationships with engaging messages that convert. Now, that's smarter messaging.
Unified Offers
If you're a restaurant, you know how challenging it is to manage the various offers and promotions your brand distributes every week. Whether you're distributing physical coupons through free-standing inserts (FSIs) or digital coupons across your online media channels, there's a lot to coordinate between your marketing team, digital experience team, and perhaps even your external agency.
And when that's in place, you need to enable the POS systems across all of your stores to accept those coupon offers effectively. If you're familiar with our Unified Offers platform, you already know how we simplify all of this to fit into your omnichannel marketing program.
In this latest update, we're simplifying this by adding support for another POS platform. The integration between Unified Offers with the Micros Simphony POS platform enables Oracle Micros customers to consolidate and simplify the redemption of every physical or digital coupon offer, regardless of which channel they're sent through. Managing the growing number of offers across all of your stores every day is hard enough, and we're hoping this integration makes your team's digital marketing lives just a little easier.
And with powerful analytics like Perfect Attribution™ and Return on Marketing Spend (ROMS™), Unified Offers allows you to measure and compare how every offer is converting across every channel, so you'll have the insight to make effective marketing decisions quickly.
Additionally, Micros Simphony clients get a powerful combination of real-time reports and insights that only come with the integration of two of the foodservice industry's leaders. With the combination of Mobivity's Unified Insights analytics platform and Oracle's Business Intelligence, brands can now track operational and marketing campaign performance like never before.
If you're a restaurant brand using the Micros Simphony POS platform, there's no better time to look into how Mobivity can help increase guest frequency and spend with our Unified Guest Engagement Platform.
Learn more about these & other product updates
If you want to learn more about these and other new features, give your Mobivity Customer Success rep a call today. They can give you the run-down and set up a quick demo for you to see and discuss these award-winning solutions up close.
Not a current customer? Schedule a demo with one of our textperts to see our products in action and learn more about how we're helping brick-and-mortar brands like yours build stronger guests connections that lead to higher sales and brand loyalty.