It's almost Labor Day, and that means the kids are heading back to school, summer is winding down, and Mobivity has more product updates to share with you. Before we get into that, though, here's hoping that you're able to squeeze in a few more summer BBQs and picnics before the leaves start to turn!
New Product Updates
SmartMessage™
Subscriber Segmentation
As a business owner or marketer, you know how important it is to keep customers happy and encourage more visits. One of the best ways to do that is to keep them engaged with timely communication. Our SmartMessage solution does that through the magic of text messaging, allowing brands to share anything from company news and product updates to limited-time offers, local events, and sponsorships. That's how successful brands are maintaining the edge in keeping customers connected and building stronger relationships that can lead to higher loyalty.
But every subscriber is different, and they're not all going to engage in the same way. This is why we created a subscriber segmentation feature that allows brands to segment their text club into different groups of like-minded guests to target with messages that will appeal most to that segment. This kind of targeted messaging is much more effective in driving higher engagement than a general broadcast.
SmartMessage currently includes 6 defined segments that were created specifically for this type of message targeting.
Frequency
Calculates the offer redemption frequency for every subscriber and groups them by the average number of days between redemptions.

Engagement
Calculates and groups subscribers by their engagement level (i.e., their tenure, number of redemptions, and time since their last redemption).

Opt-In Engagement
Groups subscribers by the number of days it took them to redeem the offer they received when they opted into the text club program.

Last Redemption
Groups subscribers by the number of days since their last redemption.

Week Day
Groups subscribers by the day of the week they most often redeem offers.

Day Part
Groups subscribers by the time of day they most often redeem offers.
The most popular one is "Last Redemption", which groups subscribers into 0-30 Days, 31-60 Days, 61-90 Days, 90+ Days, and Never Redeemed. And the reason it's so useful is that brands can target each group with a different offer or promotion that will have a higher likelihood of driving a particular behavior.
Think about it. Would a subscriber who redeemed one of your offers within the last 30 days need the same offer as a subscriber who hasn't made a purchase in over 90 days (what we call a "lapsed subscriber")? Probably not since subscribers in the 90-day segment typically need a bigger incentive to get them back into the store. So send your 40% off coupon to the lapsed subscriber and a 20% off one to the more frequent one.
For years, brick and mortar brands have been "over-couponing" by giving the same discount offer to every guest, regardless of their visit frequency. And with the margin pressure restaurants already face, operators can hardly afford to over-coupon when they don't have to.
What we've seen in our analysis of millions of restaurant guests over the last 3 years is that those subscribers who redeemed an offer more recently will redeem subsequent offers at a much higher rate. What this tells us (and what we advise our clients to do) is to segment their subscribers and design their text marketing campaigns to send the right offers to the right segments and watch how their redemption rates grow. It's not magic… it's just smarter messaging.
Predictive Offers™
We're also excited to introduce SmartMessage's new Predictive Offers™ feature, which uses artificial intelligence to analyze historical offer redemption activity to suggest the best offer for each segment and even predict how well subscribers will redeem them. Combined with subscriber segmentation, Predictive Offers takes the guesswork out of selecting which offers will lead to higher engagement and conversions.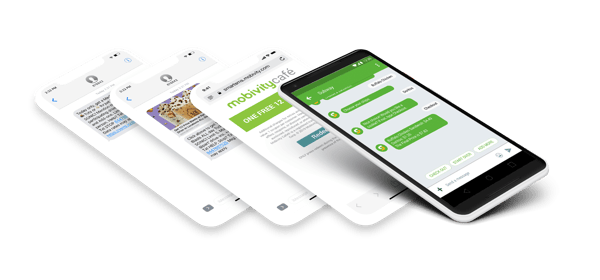 This is the latest in our AI-driven Unified Insights platform that supports all of our products. Depending on the Mobivity product you're using, Unified Insights stores and analyzes campaign data, including messages sent, segments targeted, offers redeemed, POS transaction data, etc., to provide insights on how to fine-tune your marketing program.
If you haven't caught up on the latest features, give your Customer Support Rep a call, and they can show you how Unified Insights can help your marketing program.
SmartReceipt®
Speaking of smart, we've also got some exciting news on SmartReceipt®. This is our innovative solution for printing engaging messages and personalized offers in real-time at the point of sale, based on a guest's order. Bounce-back offers are what clients mostly print, but the product is flexible enough to print anything from a short survey on their recent visit to a promotion of a new menu item or a local event.
If a guest just bought a turkey sandwich and chips but no drink, for example, you can print an offer for a free drink if they return within the next few days. Operators can set the expiration date and specific rules based on the items purchased, items not purchased, time of day, check total, for example, and SmartReceipt prints a receipt with the right offer dynamically at the point of sale! Guests feel special about getting a personalized deal, and you feel good about getting them back in sooner and spending more during their next visit.
No other vendor has the capability to do this, and as a marketer, you can appreciate how this type of physical, in-store retargeting allows your brand to deliver highly targeted messages for every guest. As an owned marketing channel, SmartReceipt is a great way to deliver personalized bounce-back offers that have proven to increase guest frequency and average ticket spend.
Integrating SmartReceipt with Unified Offers™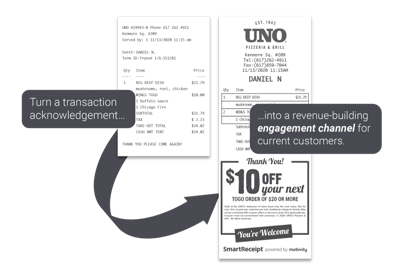 But physical receipts are only one of the many channels brands like yours can use to build stronger relationships with guests. Managing offers and promotions across your omni-channel marketing program can be a real challenge, which is why we created our Unified Offers solution, the first of its kind for the restaurant and foodservice industry.
We're happy to announce that we've integrated SmartReceipt with Unified Offers to help brands more effectively manage their SmartReceipt offers. In addition to printing a receipt with an offer based on a guest's current order, a store now has the flexibility to print any offer they can dream up, including multi-channel offers a brand wants to distribute through its other channels. In addition to creating single-use and multi-use offer codes that can be printed by SmartReceipt, Unified Offers also adds the ability to enforce redemption policies that can put an end to offer fraud.
Let's say, for example, that a store printed a bounce-back receipt with a BOGO offer that could only be used once and within 3 days of a guest's initial visit. Unified Offers can not only manage the offers printed but also enforce the redemption rules associated with those offers. Plus, Unified Offers can measure and report on how well those offers are performing and tie every offer to a sales transaction.
This type of control, visibility, and attribution is helping brands understand exactly which offers and specific channels are performing well and which need more attention.
Unified Insights
In the latest release of our Unified Insights data and analytics platform, we've added support for the popular PAR Brink POS system. This simplifies the process of getting PAR Brink POS data into the Unified Insights analytics platform and enables brands to turn data into insight with the industry-leading analytics engine that powers our entire portfolio.
Learn more about these & other product updates
If you want to learn more about these and other new features, give your Mobivity Customer Success rep a call today. They can give you the run-down and set up a quick demo for you to see and discuss these award-winning solutions up close.
Not a current customer? Schedule a demo with one of our textperts to see our products in action and learn more about how we're helping brick-and-mortar brands like yours build stronger guests connections that lead to higher sales and brand loyalty.