July means BBQs, swimming pools, and outdoor get-togethers! And while we Mobivians have been enjoying those, we're also excited about the tasty product updates we have to share with you! So grab a cold drink or a little snack and take a peek at what we've been up to recently.
SmartMessage™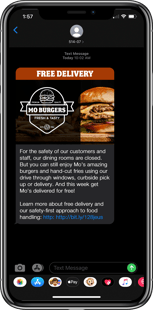 As we mentioned last month, our Reach Messaging product has been renamed Mobivity SmartMessage™, and it's worth pointing that out again since you may not have caught this in our last newsletter. Why the name change? Well, after reviewing the updates we added over the last year, it was even more clear that our solution was more than your garden-variety text messaging product.
In particular, the advanced guest segmentation and data analytics capabilities compelled us to capture some of this magic in the name. So what better way to do that than to include "Smart" in the name. If you're an existing client, you're already aware of some of these advanced features, and if you haven't deployed a solution yet, we'd love to show you how text message marketing can boost your loyal subscriber base and generate more frequent visits to your store.
Okay, so on to the new features!
Two-Way Messaging
If you're familiar with SMS messaging, you probably know how popular it is as a marketing channel with open rates that simmer around 98%. This is a big reason why messaging is considered the most effective channel to reach your subscribers with the news and offers you want to share. While our clients have found one-way messages to be a great recipe for success, we recently added the ability for clients to build higher engagement with guests through two-way messaging.
Why is this so cool? Because while ensuring every message gets seen is a marketer's dream, humans don't want to just be spoken to. We want to be spoken with and appreciate when our favorite brands engage us like the humans we are. We all feel more engaged with two-way conversations than monologues, right?
The value of two-way messaging goes beyond building stronger guest connections, though. It also allows brands like yours to collect important feedback on their preferences and habits. You can, for example, ask guests to reply with their favorite menu items, meal combinations, or even their preferred days or dayparts. Imagine how valuable that feedback will be when creating the next messaging campaign. You'll know more about every guest and can target them with news and offers that will not only get opened but that will appeal to their preferences. This is one more way we're helping clients create personalized marketing campaigns that inspire more brand loyalty. How about that for a dollop of smartness?
SmartReceipt®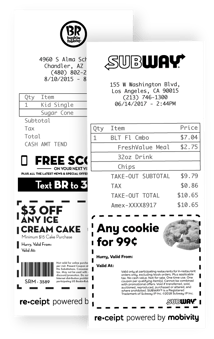 Speaking of smartness, we've also got news to share about our SmartReceipt® solution. This, as you know, is our innovative solution for printing engaging messages and personalized offers on every guest receipt based on their actual purchase. And when we say "printing engaging messages", we're talking about printing them on the physical in-store receipts at the point of sale. No other vendor has the capability to do this, and as a marketer, you can appreciate how this type of physical, in-store retargeting allows your brand to deliver a personalized message to every guest based on what they just purchased.
If they just bought a turkey sandwich and a small drink, for example, maybe you print an offer for a discount on a full meal if they return within the next few days. They feel special about getting a personalized deal, and you feel good about getting them back in sooner and spending more during their next visit.
Integration with Mobivity Unified Offers™
As a marketing channel, SmartReceipt is a great way to deliver personalized bounce-back offers that have proven to consistently increase guest frequency and average ticket spend. But this is only one of many channels brands like yours are using to build stronger relationships with guests. Managing offers and promotions across all of these channels can be a real challenge, which is why we created our Unified Offers solution, the first of its kind for the restaurant and foodservice industry.
To help simplify the management of your printed SmartReceipt offers, we recently integrated it with Unified Offers. Of course, Unified Offers can help your team simplify the design and management of every promotion you run through every channel, and you can read all about that here. What makes this integration with SmartReceipt so helpful is that in addition to dynamically printing personalized offers on every guest receipt, you can now more effectively manage the types of offers that are printed and exactly when guests can redeem them.
You might, for example, want to print a BOGO offer that can be redeemed only once and within a certain time period, say, in one week. Or you might want to set up a campaign that nudges guests to come in once a week and rewards them with pre-determined series offers that encourage them to spend a little more with each visit.
That's how we helped one national brand get customers to increase their frequency and average check size. Having our Unified Offers solution manage your SmartReceipt campaigns is an ideal way to not only control the types of offers you print but also a great way to monitor and track how those offers are being redeemed alongside the offers across your other marketing channels. This type of full control, visibility, and attribution can really help brands understand what's working and what's not.
POS Data Capture
In addition to printing personalized receipts for guests, we've added the ability for SmartReceipt to capture POS data for every transaction. This is helpful for brands that need help understanding how their printed offers are driving individual guest behavior that goes beyond the standard SmartReceipt reporting of showing how your printed offers are being redeemed and by which guests. What we're talking about here is the ability to get a clear view of guest campaign responses, purchase history, and how your marketing efforts are translating to increases in individual guest frequency and spend.
With secure access to your transaction data, our Trusted Data™ machine learning technology analyzes the POS data across your stores to provide a consistent view of every guest, their campaign responses, and their purchase history. And by combining our Perfect Attribution™ and Return on Marketing Spend (ROMS™) technology with your transaction data, you'll have the insight to send highly targeted offers based on offer redemptions, guest purchases, and their preferences. This insight provides the secret sauce to know how often guests redeem an offer, when they last visited, and how much they spend per visit over time.
This powerful insight is optional for SmartReceipt customers who want to dig deeper into their sales data beyond knowing which SmartReceipt printed offers are being redeemed and by whom. In the latest release, we've added native support for PAR Brink POS systems, bringing this cutting-edge reporting and analytics to this popular platform. If your business runs on the PAR Brink (or another POS) platform, come talk to us about how we can help your business leverage data to grow your business. Contact us here.
Learn More About These & Other Product Updates
If you want to learn more about these new features, give your customer success rep a call today. They can set up a quick demo for you to see these and our other award-winning solutions.
Not a current customer? Schedule a demo with one of our textperts to see our products in action and learn more about how we're helping brick-and-mortar brands like yours build stronger guests connections.