If you've been following the latest trends in restaurant marketing, you've probably read a lot about how text messaging has become a new channel that helps build relationships with regular guests. What most restaurant brands like about text message marketing is that text messages are really hard to ignore and about 98% are opened within the first few minutes of receiving one.
These are two of the main reasons foodservice brands are adopting it, but that's not what I want to talk about today. If you want to read about those and other primary benefits of text marketing, check out this other blog post.
Instead, I want to highlight some of the ways restaurants are using SMS messages to streamline their operations, which has become increasingly important since the pandemic. And assuming you work in the industry (otherwise, why would you be reading this?), you know that off-premise dining is likely to remain an important part of your business model going forward. So let's start there!
Optimizing the transition to more off-premise dining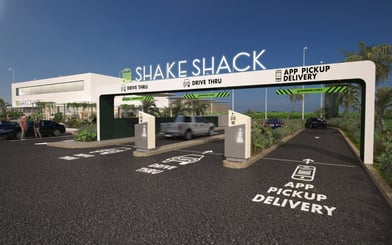 As you know, off-premise dining includes curbside pickup, in-store pickup, and, of course, delivery. If your business model assumes this type of fulfillment, then you've probably weathered the COVID storm better than most restaurants. Even so, you've probably looked at ways to fine-tune your drive-thru process and tested a variety of curbside and in-store pickup tactics to handle the surge in off-premise orders.
We're betting that, during that transition, you encountered some hiccups keeping guests informed about their order status and how and where they should pick up their food. There was no problem acknowledging and accepting the order, but the fulfillment part probably took a little more work, right?
So what did you do? You updated some processes, cleared some space in the store for to-go orders, and put signs out directing guests where to go. And, you probably found that your team spent a lot more time on the phone answering questions from confused customers about all the changes. "Am I OK to come in?", "Do I need a mask?", "What time should I arrive?", "Where should I park?".
We've seen a lot of this from both new and existing clients and have been helping them use text messaging to help guests get in and get out quickly and easily. There's a reason we call it quick-serve, right? With our purpose-built messaging platform, they're able to send text messages to confirm orders, tell guests when their food is ready, and where to pick it up.
Better engagement improves the guest experience
In addition to keeping guests engaged throughout the process and providing a better customer experience, text messaging also addresses the broader goal of streamlining their operations. In this broader sense, we're seeing brands spend millions of dollars redesigning their kitchens with separate makelines for to-go orders, reducing in-store floor plans, and adding additional drive-thru lanes.
All of this is meant to rethink how they can serve their customers more efficiently and optimize the guest experience. An informed guest is a happy guest, and keeping them updated on their order can be the difference between enjoying a warm, fresh meal or cursing a cold, stale one.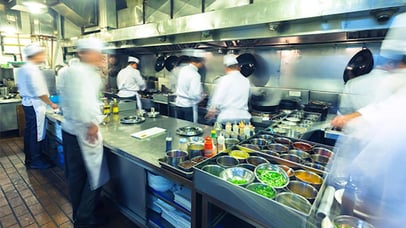 This kind of timely guest engagement, as you can imagine, is a lot more important for a restaurant than it is for other retailers. You can buy a pair of shoes, for example, and pick them up a day later at your convenience. Since you're not going to eat them, you don't have to worry about them getting cold, right? Try that with a hot Cuban sandwich or a soup and salad combo. No thanks.
That's why the timely communication of mobile messaging is so important for our foodservice clients. They want to know that every guest has a great experience with food that meets their every expectation whether in-store or off-premise. And, that means making sure communicating with guests is just as efficient as the rest of their operations. They love it because it fits perfectly with their broader digital transformation efforts.
So, if you're a restaurant or foodservice brand looking into how text messaging can help your operations, come talk to us. With 15 years of experience in helping some of the world's largest restaurant brands, no one knows more about building text marketing programs for restaurants than Mobivity. In fact, we're the only text message marketing platform purpose-built to help restaurants eat their competitor's lunch.