Understand common text message and text message marketing terminology
Do you know the lingo of the mobile messaging world? Have no fear! Let's take a deep dive into the waters of text message marketing lingo so you can lead your brand swimmingly into this increasingly popular customer communication tech.
Jump directly down to the terminology of your choice or take a scroll through the list.
SMS
SMS (short message service) is the original text message and communications technology that only contains text.
With SMS messaging, you can reach anyone that has a phone and text messaging as part of their phone plan. And — let's face it — there are a lot of people with phone plans and not many who don't have texting.
Just because SMS is simply text doesn't mean you can't use it for text message marketing. In fact, for people who have older phones that aren't compatible with advanced messaging technologies, that's the only way you can reach them through text.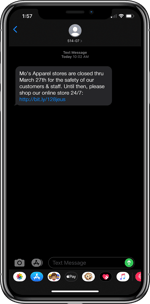 Simple SMS messaging is also the preferred technology for employee and staff communications, where branding is less important than getting the basic facts to your staff ASAP. Sending an SMS message to staff works much better than email for a couple of reasons:
The National Restaurant Association reports that 40 percent of employees in the foodservice industry are under age 25. Many in that generation don't even use email or rarely check it, relying instead on text.
Mobile messaging from businesses has a 95 percent open rate, compared to email, which has only a 5 percent open rate.
Read about how and why the national brand Tyson turned to SMS to send out urgent text messages in real time to their entire organization across multiple locations and in various languages.
MMS
MMS, short for Multimedia Messaging Service, goes beyond text, allowing you to also send messages with images, videos, or GIFs.
Many brands prefer using MMS over SMS not only because it's more visually engaging but because it can include a logo, the brand's color palette, or even product images.
Another reason MMS is more popular for text message marketing is because MMS messages have a 99% open rate and a 400% better conversion rate than SMS.
RCS
RCS is the abbreviation for Rich Communication Services, an advanced form of mobile messaging developed by Google.
RCS works within a smart phone's standard texting app. Customers don't have to download another app, so adoption is fast and instantaneous for anyone who owns a phone — so essentially everyone around the globe.
RCS goes far beyond the capabilities of SMS, giving businesses next-generation customer engagement capabilities when using text message marketing.
RCS allows businesses to send texts with rich media, swipeable carousels, in-chat multimedia transmission, and analytics.
Most notably, RCS typically gets a 5-times higher conversion rate than SMS or MMS. We think that's reason enough to consider using it.
To learn more about this next-level text capability, see how an RCS campaign done by SONIC™ last year used a swipeable product carousel to drive "Order Ahead" pickup orders that achieved a 50% boost in purchases.
IMPORTANT: When looking for a text message marketing platform, make sure the one you pick is able to identify the customer's phone brand and model so that it can, in real time, deliver RCS to those phones capable of receiving RCS messages, and yet deliver MMS or even SMS to older or more limited models. As you may have already surmised, we bring this up because, yes, our text message marketing platform can do this. Many cannot.
Short Code
Short codes (sometimes called short numbers) are essentially just short digit sequences used in mobile messaging communications. Clicking or tapping on a short code within a marketing-oriented mobile message can perform the functions of hitting Reply, connecting the customer to a phone number, or connecting them to a certain webpage or image.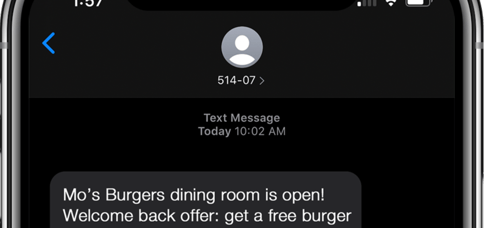 Many of the brands using our text message marketing solution take advantage of short codes. One reason that short codes are so popular with restaurants is that there are strict text limits in SMS and MMS. Using short codes allows a brand to use more of the message space to promote.
A good example of this is when you are offering a coupon and want to be certain that even an SMS text-only recipient will have access to your coupon. Tapping your short code can take them directly to the coupon image or offer details.
The short code is perhaps most often used as a way to achieve "opt in", permission for the brand to send the customer further messaging or offers, or "opt out" to discontinue messaging. For example:
Text FOOTLONG to 71234 to receive 30% off your next sub sandwich.
Text HELP/STOP to 71234 for info or to unsubscribe.
If the customer texts HELP, the brand typically sends them a terms and conditions message with either a toll-free phone number or email address and the typical reminder that "message and data rates apply." If the customer texts the word "STOP" (or "CANCEL" or "UNSUBSCRIBE") to your short code, you typically provide an auto-response confirming that you have unsubscribed them and that you will be sending them no more messages.
For marketing purposes, one of the reasons short codes are popular with brands is they are shorter than a phone number and easier to remember. This increases the likelihood that a customer or potential customer will respond to your text message marketing offer.
Common text message abbreviations for businesses
Our world communicates via text a majority of the time. We use many abbreviations when sending messages, such as LOL (laugh out loud), ROFL (rolling on the floor, laughing), TBH (to be honest), BRB (be right back) and hundreds more. Just because you're a business doesn't mean you shouldn't be using these in your campaigns! But, there are always risks that a lesser known term might not actually be known by some of your customer base.
So, why abbreviate at all and what should you abbreviate? As always with SMS and MMS messages, you are bumping up against text limits, so it may be necessary to abbreviate. But, seriously, how often will you need to say "to be honest" or "be right back"? The more common way of businesses abbreviating shortcuts is using words naturally understood by the brain by just about anyone. This could be eliminating certain characters within a word or swapping out in order "2 Sav Msg Chars."
Mobile messaging characters are limited. If you've got more to say than will fit within the 134 character limit of SMS messaging, use abbreviations to conserve space. For example:
Use a partial word where its meaning will be obvious: "fun for the whole fam" vs "family"
Use numerals instead of spelled out numbers/dates: "3" vs "three", "Offer ends 6/30!" vs "Offer ends June 30th!"
Use @ for "at"
Use 2 for "to", "too", and the actual number: "See you 2nite!"
4 instead of "for": "An offer 4 ur whole fam!"
Use "thx" instead of "thanks"
Skip the punctuation: "isnt" vs "isn't", "Open 9a–9p" vs "Open from 9 A.M. to 9 P.M"
You can get away with even unconventional abbreviations by removing some or all the vowels. This doesn't always work, but why not give it a shot? You can always double check with colleagues to see if they get it. "Fntastk offr" communicates just as well as "fantastic offer", for example.
Is text messaging right for your business?
It's important to stay connected with customers shifting to off-premises transactions. Text message marketing for restaurants is a proven digital engagement strategy, expanding guest visit frequency rates, increasing the average spend per visit, and boosting overall revenue. If you are considering it for your business, here are next steps:
Check out these case studies for real-world examples from known brands demonstrating the effectiveness of text message marketing and other digital engagement strategies.
Download the SMS Playbook: a quick-read guide with SMS strategies and real-world examples from top brands.
Visit the Restaurant Survive & Thrive page: a cornucopia of free articles, videos, and white papers revealing proven digital engagement strategies and best practices for restoring restaurant customer relationships weakened by COVID-related business restrictions.
Finally, we encourage you to request a demo of Mobivity's text message marketing solution, designed from the ground up to drive digital guest engagement for restaurants.