How Mobivity's Unified Mobile Messaging Won The 2020 Breakthrough Award for Mobile Messaging-based Marketing Solutions
We are honored to announce that Mobivity received the 2020 award for "Best Mobile Messaging Based Marketing Solution" at their MarTech Breakthrough Awards.
The biggest part of that honor is what we did to achieve it: help a major national brand – SONIC®, America's largest drive-in quick service restaurant chain — achieve phenomenal success in their SMS marketing efforts, aided by our Unified Mobile Messaging.
We encourage you to read the full SONIC case study, or you can get highlights from the Martech website.
Highlights
Using Mobivity's Mobile Messaging Platform, Papa Gino's Pizzeria and D'Angelo Grilled Sandwiches (PGDA) segmented customers and created a mobile messaging campaign to target customers who hadn't visited a PGDA 90-days prior to the beginning of their COVID restrictions. With highly targeted offers encouraging a return visit, this campaign drove twice as many return visits as non-SMS subscribers and 17 percent more than members of the company's loyalty program. PGDA saw Mobivity's mobile messaging deliver an average Return on Marketing Spend of 440 percent, even during the coronavirus restrictions.
"Mobivity deserves this win for their quick, strategic thinking, which helped see us through the COVID 19 pandemic," said Deena McKinley, Chief Marketing Officer at PGDA.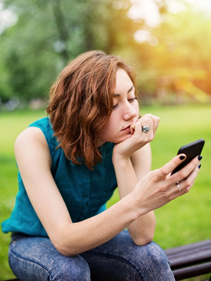 "When the pandemic led restaurants to dining room closures, we really doubled down on take-out and delivery, and Mobivity understood how to connect with our customers, encouraging them to return more frequently, and return they did. By understanding the value of creating an owned mobile messaging channel, Mobivity helped us amass valuable first-party customer data that insulated us from the downturn of sports, large gatherings, catering and other forms of traditional advertising."
Coronavirus Restrictions Bring B2C Mobile Messaging to the Fore
With COVID restrictions lingering into 2021, restaurants are learning that they must think differently and respond. Mobile messaging is a perfect way to do that, which is why many top restaurant chains are moving business-to-customer mobile messaging to the top of their digital engagement priorities. By owning a direct, targeted and personalized channel, restaurants can not only sustain, but grow customer frequency and spend, despite clear challenges imposed by the pandemic, as PGDA can attest to.
Survive and thrive!
Thinking about adopting SMS for your business-to-consumer marketing and communications or staff communications? Or simply looking for digital customer engagement strategies, examples and best practices?
While our Breakthrough award was given to us because of our work on the PGDA campaign, they are but one example of how mobile messaging and SMS marketing can transform and deepen guest relationships. On our Case Studies page, you will find several more examples of the power of mobile message for businesses from companies such as SONIC, Subway, Round Table Pizza and more.